Feb. 23, 2022
Everyone knows that many occasions now need to read the QR code through the device, for example, the QR code scanning module is embedded in the self-service vending cabinet to integrate the self-service identification technology product solution. When shopping, you only need to place the mobile payment code near the "Payment Code Scanning Code". "Window" can quickly read the QR code, simple and convenient. Compared with traditional self-service vending terminals, it is obviously more flexible and time-saving in payment.
In fact, behind the above seemingly simple use process is advanced embedded QR code scanning technology. From a professional point of view, the QR code scanning module actually decodes traditional software, uses large-scale programmable logic circuits, and through innovative R&D and design, it is transformed into hardware decoding, making the system softer in decoding speed. The decoding method is increased by more than 10 times, and the comprehensive reading efficiency is greatly improved; at the same time, the peripheral circuits and components required by the original decoding system are greatly simplified, the system cost and power consumption are greatly reduced, and the system reliability is improved.
It is not difficult to understand: the QR code scanning module is based on automatic identification technology, has independent barcode scanning and decoding functions, and can be embedded in various devices as a barcode reading component application. In real life, there are many commercial uses of QR code scanning modules, such as embedded access control, lockers, passage gates, lockers, game entertainment machines, self-service ticket collection terminals, self-service recharge vending machines, bus and subway scanners. Code payment, face recognition, temperature measurement and code all-in-one machine, medical self-service equipment, fixed POS scanner, various handheld terminals and other self-service code scanning terminal equipment.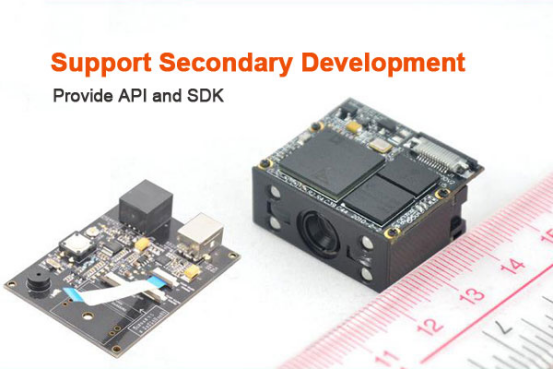 The various series of 2D scanning modules launched by Shenzhen Rakinda with strong decoding capabilities (supporting commonly used standard 1D codes and 2D codes on the market). And these modules can be used as usual in harsh environments (read color codes, deformed codes, and reflective codes at will , Defaced code, etc.), can automatically trigger scanning, can also be commanded to control scanning, can easily read the barcode under the state of insufficient battery power, color film on the mobile phone screen, color barcode, etc., to meet the use of various scenarios; The market and various IoT applications provide product solutions that are updated and have outstanding cost performance and competitive advantages. If you are interested in such applications, please contact us!